NAPA NUTS Is Getting Greener!
Napa Nuts is very excited to announce that we are moving to compostable packaging! A kraft paper compostable bag will be the new default for all online orders. We have simplified the ordering options to 1 pound Small, 2 pound Medium, and 5 pound Large. These bags are very cool and we can't wait to get these into peoples hands... and then their compost bins.
**Please remove the tin-tie and the labels before composting.
**Certain items will either create more waste by moving them to the compostable bags or just won't work for some reason. We will still sell these in our original packaging.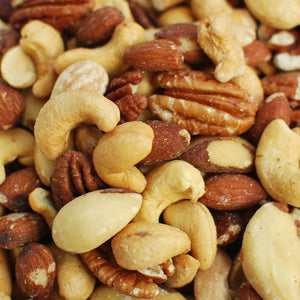 Perfection by the Pound
Less than the best? Never! At Napa Nuts, we're not satisfied with anything less than perfection. From our home in California's Napa Valley, we search endlessly for the absolute best nuts, dried fruits, and seeds; bring them together in one convenient place; and then make them available to more than 500 of the country's finest restaurants, wineries and bakeries.
We started our family-owned business in 1990, and since then have built tried-and-true relationships with the most consistent growers in the nation. That means we get the highest-grade, best-in-class product, time after time.
If you're looking for exceptional nuts, seeds, and dried fruits, served up and shipped with a dose of friendly, old-fashioned (and, quite frankly, unparalleled) customer service, you've come to the right place.
Napa Nuts' Commitment to Food Safety in the face of COVID-19
Napa Nuts is open and taking extra precautions to ensure the safety of our staff and our customers and prevent the spread of COVID-19. Napa Nuts is closing its warehouse to the public until further notice. We offer free contactless car-side pick-ups. As of June 15, 2021, we offer in-town deliveries for all customers in Napa, Yountville, and St. Helena for $5.00 per order.
Can I shop at your store?
  There is no "shop" at our warehouse. Napa Nuts is a wholesaler--we take orders and fill them per order. We do not have pre-packaged items that you can pull off of a shelf. Orders will be filled in the order they are received with priority given to business customers. We are unable to provide on-demand services to walk-up customers (this was also true before the pandemic and is customary with wholesale businesses like Napa Nuts).  Placing an order on the web is the fastest way for a non-business customer to get an order processed.  We ask for a MINIMUM of 24 hours to have orders ready, but we will fulfill everything as quickly as possible and usually faster than expected.